By Sushila Ailawadi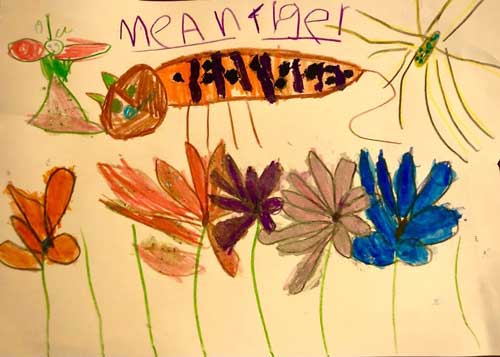 Illustrated by aspiring artist, Mia
Intro; by friendly neighbour of Sushila
My friends, this is the true story of the leopard tiger which haunts Selaqui to this very day. Indeed, many claim to have seen its stripes, and others swear by its spots. Some have seen a tail more than a meter long, dangling against the full moon. To this day it roams the road in front of the village school, where children hide behind rocks in order to jump out and scare it. Yes. But, without further ado, we wander into the dark night…
Spotted a tiger in the dark of the night,
with polka dot stripes, all black gold and bright.
Or was it a leopard, all shorn of his spots
wit polka long bands all stripey and stout?
One way or another, dear sister brother
We'll never knows,
It's hard to get close unless you desire
to face his deep ire and descend his gullet
with fresh chips and mullet,
a glass of sweet claret, 3 cakes, a few carrots
An annoyed pink parrot,
A villager who took to the field for the loo,
A very sad demise… all chewed up inside.
~Thus end's the ballad of a spotty-tiger salad.~