*This is a story of a girl I grew up with.
It is what happened.
Its humbling to realize that such people exist.
Anna was unpretentious, never dramatic, not a show-off, and not amazingly smart or pretty. She was simply Anna; always the sweet, nice, Anna. You could count on her to be your friend. Unfortunately, Anna made the headlines one day, and because of that, I had the opportunity to peek into who the girl inside Anna actually was.
Anna married at 34; athletic, fit and full of vitality, deeply happy to have found Mark; someone she loved, who loved her back. They bought a house in the country where they enjoyed a quiet life and dreamed of a family.
After three short months of marriage, Anna drove along the long, lonely country roads on her way to work. As she approached a four-way intersection, a heavy truck came hurtling down the road and ignored the stop-sign. It plowed straight into Anna, hitting directly where she sat. For Anna, the world stopped… but she lived.
She lay in a coma for months and was in four different hospitals over the year. Doctors discouraged hope for recovery; but Anna slowly began to emerge. Her family talked to her, read her books, played music —totally unaware that she couldn't hear. They hoped she would wake up, but there was no response for months.
One day, the family noticed her eyes were beginning to track objects. She occasionally moved an arm or leg. Mark and her family were still unsure whether Anna recognized them, but they pursued to seek responses from her. Anna displayed a kind-of smile when Mark was there. Anna's sister wrote:
"The day I think of as Anna's "waking up" was on my birthday —exactly six months and one day after her accident. I brought some children's alphabet blocks and began to arrange them. She astounded me by finishing them! Then I started spelling her name and she finished it! I began writing questions and she'd point to the answer! She didn't remember her husband's name, but when I wrote it, she wrote shakily in pencil, "I want to go home with Mark." It felt like a miracle to me! I was astonished when Anna actually grabbed the pencil right out of my hand to write. She suddenly realized she didn't have to wait for me to ask her the questions —she could communicate to me herself! It was a true Helen Keller moment! Anna realized she could communicate and she did it! It was momentous! A huge sign of hope!"
Anna was back, even though she could neither talk, walk, or hear —her left side was paralyzed and she had limited movement on her right side; but Anna was back. To keep fit, she'd pull herself in her wheelchair using one leg. Anna had no memory of the year before her accident —no memory of Mark or marriage. Mark had spent countless hours with her as she gained back some strength and was there for therapies and surgeries. A strong bond developed.
Mark stuck close to Anna when she didn't remember him; he cared for her with faithful love.  He showered her with the attention she needed. Anna fell in love with him all over again. He ceremoniously returned her wedding ring, which had been kept by the paramedics. Eventually, Mark took Anna home and made it handicap accessible, meeting her every need.
Over time medical problems arose and Anna needed access to doctors. The option of using a nursing home would make them bankrupt. A lawyer advised Mark to divorce Anna to avoid complete bankruptcy. Medicaid could benefit Anna and her family would willingly become her guardian and provide the rest of her needs. Anna's family kept close watch over her; they were always there to support her. If Mark divorced Anna, she would get the nursing home and medical attention needed. Her family encouraged him to do it, knowing divorce wouldn't change his heart for Anna.
Mark cared for her twelve years in their home and remained her faithful companion when she entered the nursing home. He was the highlight of her day.  Communicating with someone who doesn't hear and painstakingly types with one finger, takes much patience and time; but Mark let Anna know the situation and told her the truth. Anna's dreams of family life were thrown out the window, that is, until she thought of a way to make their dreams come true.
My peephole into Anna made me understand humility. Anna WAS Humble! She realized there were many nice, young nurses and pretty aides at the nursing home where Mark visited every day. She was determined to make a match for him and took the job seriously. She soon introduced Mark to her favorite nurse and a relationship developed. Anna was a success; she achieved her goal. Mark married and had children.
He brought Anna photos of his kids and continued visiting. She took pride in his children as though they were her own. That was Anna —the depth of HUMBLE. She was selfless; she loved Mark so much that she was willing to see her dream carried on by another. By helping Mark and remarry, Anna lost Mark as her lifetime companion… Mark, the highlight of her long days disappeared; but her intense satisfaction was in knowing she had helped Mark get the family he and she had dreamed of; that was enough for her. It came at her own expense and without recognition from others. He made an incredible sacrifice for her and she wanted to give something back. Anna was a highly committed and determined person; she never gave into her everyday trials, or despair and purposelessness, but instead chose to make a positive impact on someone's life. She never gave up.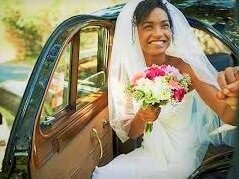 She emerged like a jubilant bride from that crushed car and took on a new character to survive. Mark helped Anna through some of the hardest times of her life; she helped him to move on.
Anna was proud of Mark's new family. She never walked again, nor talked, or even heard the voice of a child; but she loved Mark. Her greatest joy was seeing him with the family she couldn't provide. Anna WAS HUMBLE. Like an unusual desert flower which no one sees, but blooms in the night, Anna blossomed through pain and suffering.
Anna died a few years ago. Whenever I think of her, I think of what God saw in Anna and how highly God valued her. She never sought for attention; but like Hagar said in Genesis 16:13 (NIV), "You are the God who sees me", she wasn't alone. It's always the humble who humble us; the desert flowers.