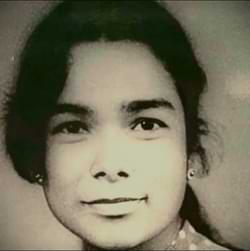 Kamla phoned. She was eagerly searching for a verse, but all she could remember about it were two words, my cup. She asked, "Do you know where the verse is?" Kamla's heart was like a cup that overflowed. Her faith in God, her passion to serve, her marriage and children were all part of what made her heart overflow. Even I was included in the overflow. It was such a privilege to be part of her joys. I tried to remember a verse that included the words my cup, but it was her husband who came up with the verse.
भजन संहिता 16:5-6
नहीं, बस मेरा भाग यहोवा में है। बस यहोवा से ही मेरा अंश और मेरा पात्र आता है। हे यहोवा, मुझे सहारा दे और मेरा भाग दे। मेरा भाग अति अद्भुत है। मेरा क्षय अति सुंदर है।
Psalm 16:5-6 ESV
The Lord is my chosen portion and my cup; you hold my lot. The lines have fallen for me in pleasant places; indeed, I have a beautiful inheritance.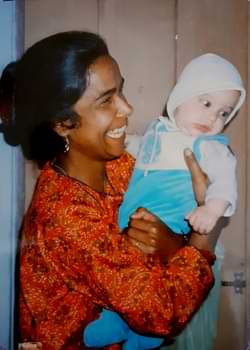 The Psalm had many promises and was prophetic for Kamla. In it, she saw hope for the future. That was no small dream for Kamla. She was bedridden for the last 18 years of her life with a rare terminal illness. Hope was her life-line. Death was no threat to her, for she never allowed it to cast a shadow on Hope. The lines of Psalm 16 spoke to Kamla of Hope, "He's the cup…. From him comes my inheritance…Boundary lines you've given me fall in places of sanctuary."
After that phone call, I turned the Psalm into a song as a gift for Kamla, but she died before I had the chance to sing it. Kamla gained her inheritance, heaven, and was simultaneously released from years of pain and suffering. She reached her safe sanctuary, her refuge.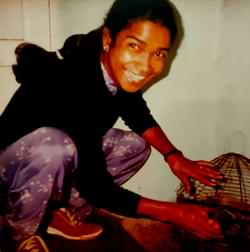 The song, Kamla's Hope, uses these verses:
Psalm 16:5-11, Ps. 4:8, Ps. 73:25,26, Rev. 22:17
Kamla's Powerful Cup
The Lord's my chosen portion
He's the cup, from him I drink.
From him comes my inheritance
In Him, my needs complete.
Boundary lines you've given me
Fall in places of sanctuary
My heart and mind are advised at night
He counsels me continually.
He is before me, at my right hand
I cannot be shaken; He makes me glad
Overflowing Joy —like a well spring I'm drenched.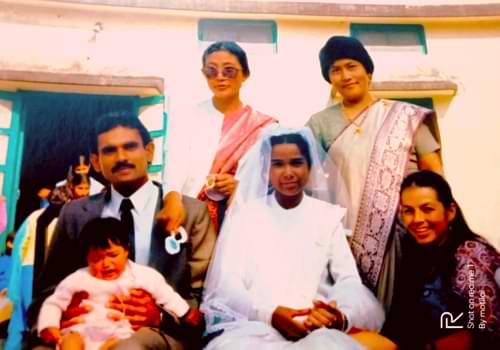 In His Love… in His love…
You will show me the path of life
In your presence is fullness of joy.
In peace I lie down and sleep;
You alone make me dwell safely.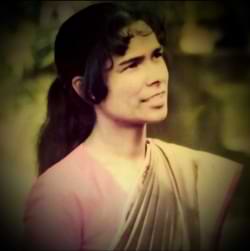 The Spirit and the bride say, "Come!"
All say, "Come." If you're thirsty then come!
Come and take life-giving water,
If you want, come and take, it's free!
Whom have I in heaven but thee?
And none I desire besides thee.
My flesh and my heart fail me:
But God is my portion forevermore.
He says Come. He says Come.
Because of her disease, Kamla lost her hair, which in time, grew back. She disliked the stubbiness that began to poke through, but it was her inner beauty that was seen. Kamla knew how to love. In that, she was a rock. A spring that gushed life. No matter how difficult her life became, she pressed on.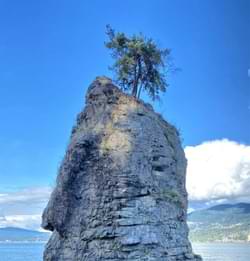 She renewed her sense of living with every day she was given. Kamla's last day, she spoke only two words; Lord Jesus.
स्वर्ग में मेरा और कौन है ? तेरे संग रहते हुए मैं पृथ्वी पर और कुछ नहीं चाहता। मेरे हृदय और मन दोनों तो हार गए हैं, परन्तु परमेश्वर सर्वदा के लिये मेरा भाग और मेरे हृदय की चट्टान बना है। Ps. 73:25,26
Death always evokes in us thoughts of heaven, even though Heaven is not about death, but life. My father wrote a line in a poem "stretch beyond imagination." When I think of Heaven, it's hard to envision its beauty. Unmarked boundaries stop my imagination. And when I view an awesome sunset, I realize there is so much more—stretch beyond imagination. That would be Heaven.
My vision is limited, yet it doesn't stop my imagination from wanting to know what God has in store for me. In the sunset below, the heavens are beautifully mirrored on the wet roof. It makes me certain that the mysterious magnetic pull between heaven and earth, plus God's own image reflected in us, is full of love and smothers us in grace daily. Life is given in our mother's womb, and that goes stretch beyond imagination. What greater love can do such amazing things? I was created in love and that's enough assurance— nothing is impossible with God.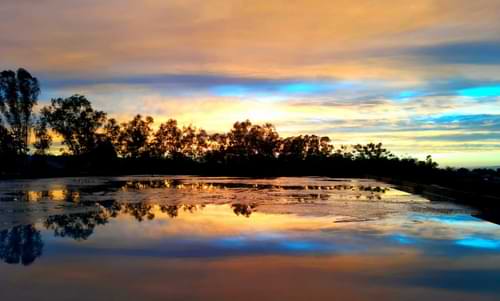 Kamla reached her goal; Heaven, a place more beautiful than we can fathom, better than this sunset—stretch beyond imagination.
| | |
| --- | --- |
| | Photo by Tom Balke |
| | Photo by Sonu Kumar |